THE IMPACT OF CLOSED CIRCUIT TELEVISION ADDITION ON APRON MOVEMENT CONTROL SUPERVISION IN APRON C JUANDA AIRPORT
Keywords:
CCTV addition, AMC supervision
Abstract
This Final Project which discusses the impact of Closed Circuit Television Addition on Apron Movement Control Supervision in Apron C Juanda Airport. This is motivated by the limited or almost non-existent number of CCTV cameras in Apron C of Juanda Airport. Juanda Airport is one of the busiest Airports in Indonesia, and with the high volume of flights, the surveillance conducted at the airport needs to be enhanced. Surveillance in a large area like the Apron requires technology to facilitate the activities and CCTV can undoubtedly assist the Apron Movement Control (AMC) in the Airside. However, the current CCTV conditions in Apron C are insufficient to support the supervision adequately. Therefore, there is a need to reconsider the role of CCTV as a supporting facility for supervision in Apron C Juanda Airport. This research employs a quantitative research design using simple regression analysis after instrument testing and prerequisite testing. The research population consists of 40 AMC personnel, and the sampling technique used is consecutive sampling, resulting in a sample size of 3 5 out of 40 AMC personnel. Data collection for this research involves field observations, documentation, and a Google forms-based questionnaire using a likert-scale research instrument, conducted within a predetermined timeframe. The research findings are as follows: (1) There is an impact of the addition of Closed Circuit Television on the Apron Movement Control Supervision at Juanda Airport, (2) There is a 41 % impact of the addition of Closed Circuit Television on the Apron Movement Control supervision at Juanda Airport.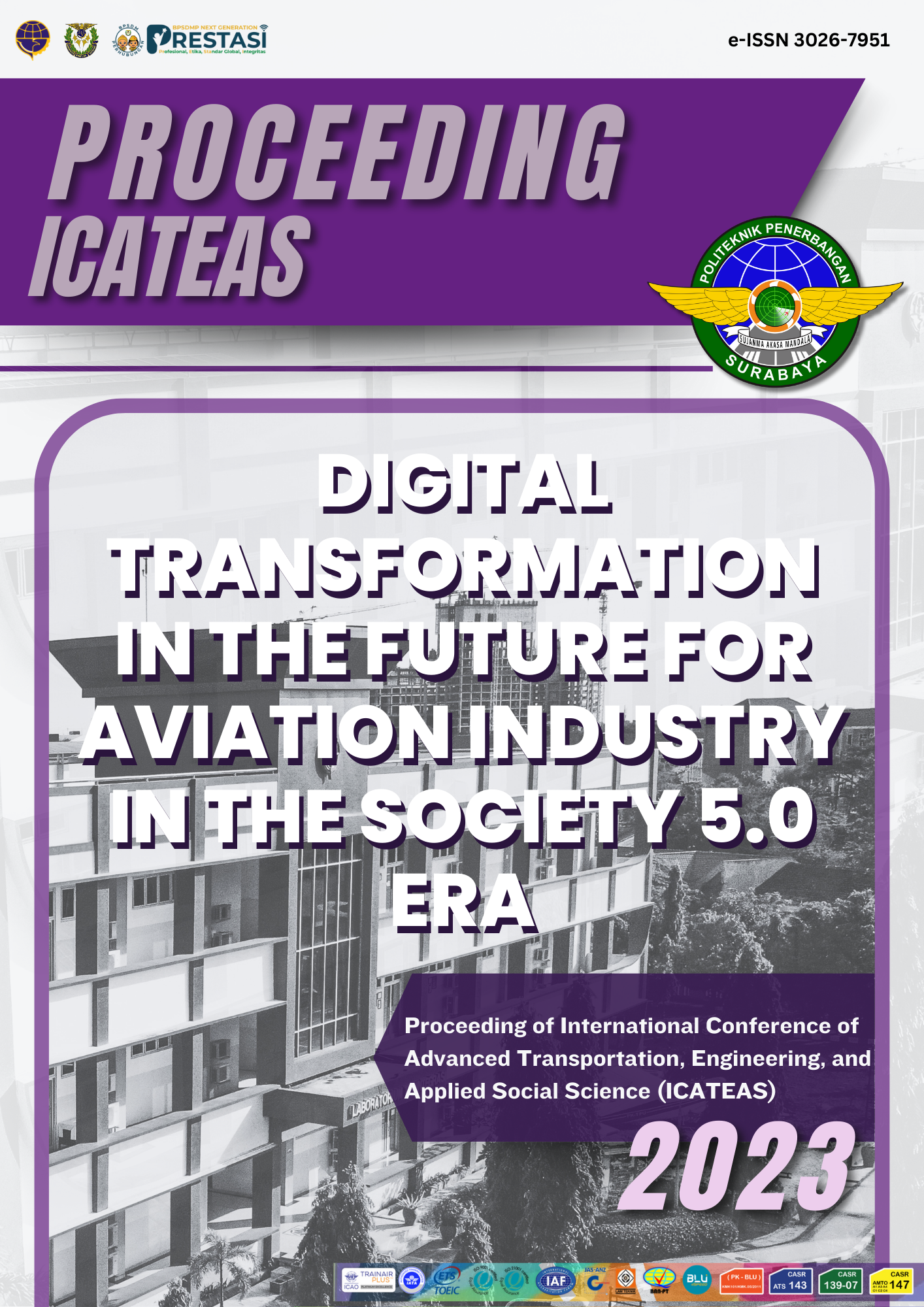 Downloads
Published
2023-11-08 — Updated on 2023-11-08
How to Cite
Febriyanti, H., Setiyo, S., Kusdarwanto, H., & Nadhifa Azzahra, V. (2023). THE IMPACT OF CLOSED CIRCUIT TELEVISION ADDITION ON APRON MOVEMENT CONTROL SUPERVISION IN APRON C JUANDA AIRPORT. Proceeding of International Conference of Advance Transportation, Engineering, and Applied Social Science, 2(1), 974–980. Retrieved from https://ejournal.poltekbangsby.ac.id/index.php/icateass/article/view/1769