DESIGN OF A FLIGHT CONTROL SYSTEM RUDDER SIMULATOR ON AN ARDUINO UNO-BASED BOEING 737-900ER AIRCRAFT AS A SUPPORTING FACILITY FOR PRACTICAL ACTIVITIES AT THE SURABAYA AVIATION POLYTECHNIC
Keywords:
Rudder, Servo motor, Arduino, Mikrokontroller, Potensiometer
Abstract
Which may be completed properly however the author wants to upload a simulation tool inside the form of a rudder, the rudder is placed at the vertical stabilizer. Rudder is the manipulate location while the aircraft yaws or turns. The rudder actions on a vertical axis (the axis extends perpendicular to the middle of gravity of the aircraft). The rudder is controlled from the cockpit using the rudder pedal. The form of balance that the rudder plays is to stabilize the plane in a directional route. The motion of the rudder is deflected to the left or right. On most plane, the rudder is attached to the rear quit of the horizontal stabilizer. Airplanes have a system or often referred to as flight manage that is divided into 2, namely primary flight manipulate and auxiliary flight manipulate. number one flight manipulate includes ailerons, rudders and elevators, whilst auxiliary flight manage includes flaps, slats, slots, spoilers, horizontal stabilizer and vertical stabilizer. Method utilized in planning the design of this rudder system starts offevolved from the design, as well as the producing substances as nicely. with the aid of using the Arduino microcontroller it'll ship commands to the servo motor, the servo motor will pass clockwise or counterclockwise to the desired rudder position. rotary potentiometer which capabilities as a function determiner. checks had been performed on the aircraft rudder and succeeded in using the servo motor to rotate clockwise or counterclockwise, supplying records on the appropriate rudder position of the plane. results within the design of the simulator rudder machine this is to help lecturers or instructors for you to easily deliver material concerning flight manipulate machine specifically on primary flight manage that is rudder, Can realize the value carry and drag that is as a result of the angle, can design the simulator rudder machine based arduino uno microcontroller,can recognise the motion of the joystick with a positive tilte angle and create simulator rudder arduino uno can pressure servo vehicles.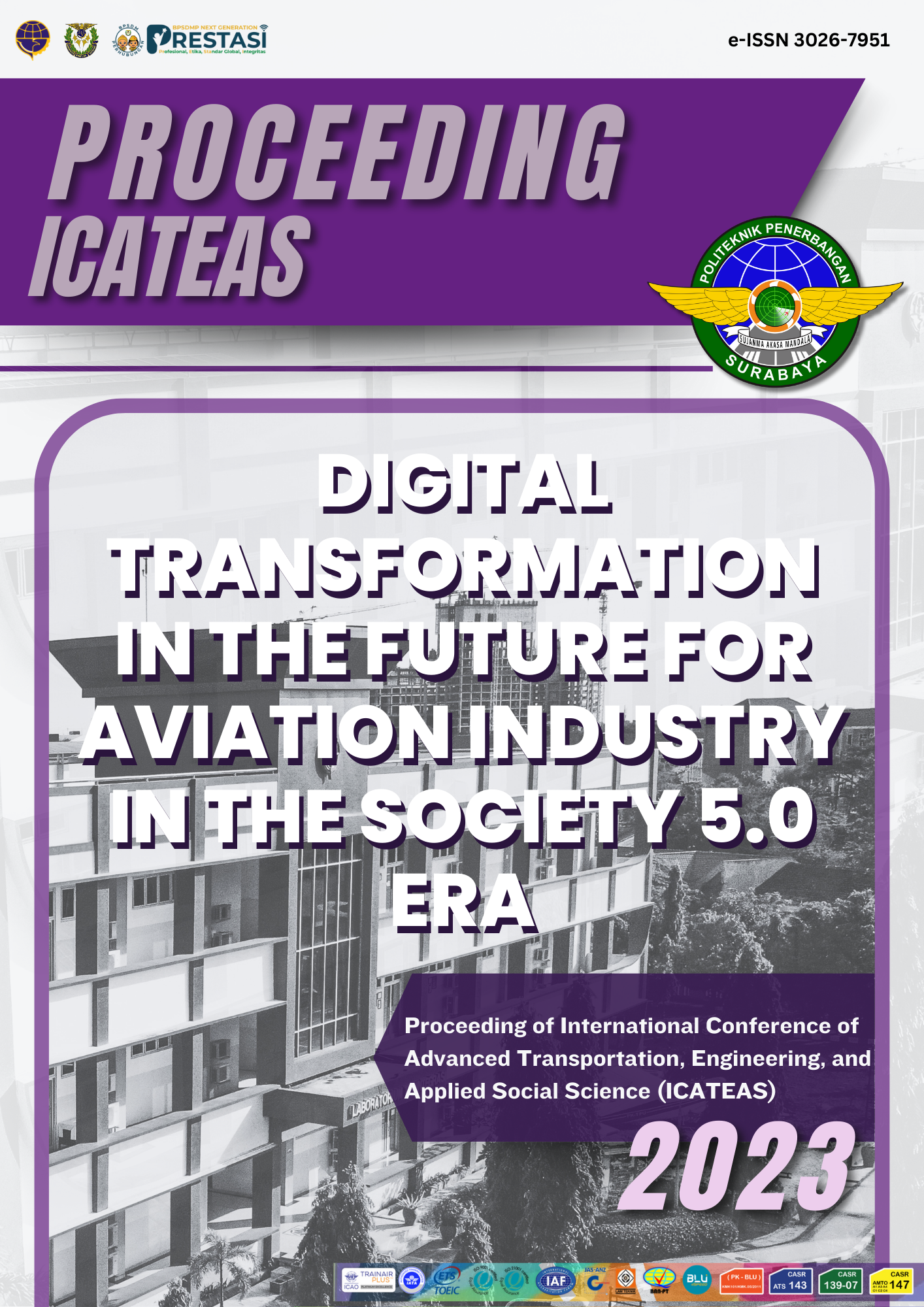 Downloads
How to Cite
Hantoro, R., Dwi Cahyo, B., & Faizah, F. (2023). DESIGN OF A FLIGHT CONTROL SYSTEM RUDDER SIMULATOR ON AN ARDUINO UNO-BASED BOEING 737-900ER AIRCRAFT AS A SUPPORTING FACILITY FOR PRACTICAL ACTIVITIES AT THE SURABAYA AVIATION POLYTECHNIC. Proceeding of International Conference of Advance Transportation, Engineering, and Applied Social Science, 2(1), 874–879. Retrieved from https://ejournal.poltekbangsby.ac.id/index.php/icateass/article/view/1754