ANALYSIS OF TAXIWAY PAVEMENT CONDITIONS WITH THE PAVEMENT CONDITION INDEX (PCI) METHOD AT JUANDA AIRPORT SURABAYA
Keywords:
Airport, Pavement Condition Index, Taxiway, Pavement Maintenance, Budget Plan
Abstract
Surabaya Juanda International Airport experiences an increase in aircraft transportation needs every year, where the increase results in reduced airside facility capabilities. The occurrence of some damage to taxiways N5N and N5S is caused by the temperature of the pavement reaching the soft point, the high groundwater level in the area, and aircraft loads that exceed capacity. This can interfere with flights that are about to take off and need to be analyzed regarding the level of damage and how to repair it. In analyzing damage to taxiway facilities can be planned with the Pavement Condition Index (PCI) method to determine the level of damage that occurs and can be used as a reference in maintenance efforts. Pavement maintenance uses guidelines from the regulation of the Director General of Civil Aviation Number: KP 94 of 2015 concerning Operational Technical Guidelines for Civil Aviation Safety Regulations. In analyzing pavement damage in taxiway N5N and N5S using the Pavement Condition Index (PCI) method, after obtaining the results of the analysis, then the repair method will be determined in accordance with the results of the analysis. The results of the analysis of Taxiway pavement conditions using the Pavement Condition index (PCI) method in the N5N and N5S taxiway areas at Juanda Airport Surabaya averaged 92.31. While the repair and maintenance methods in taxiway N5N and N5S are Patching and fogsealing. Furthermore, the estimated cost of the cost budget plan (RAB) for repairing damage with the patching and fog sealing method is IDR 13,918,200.00.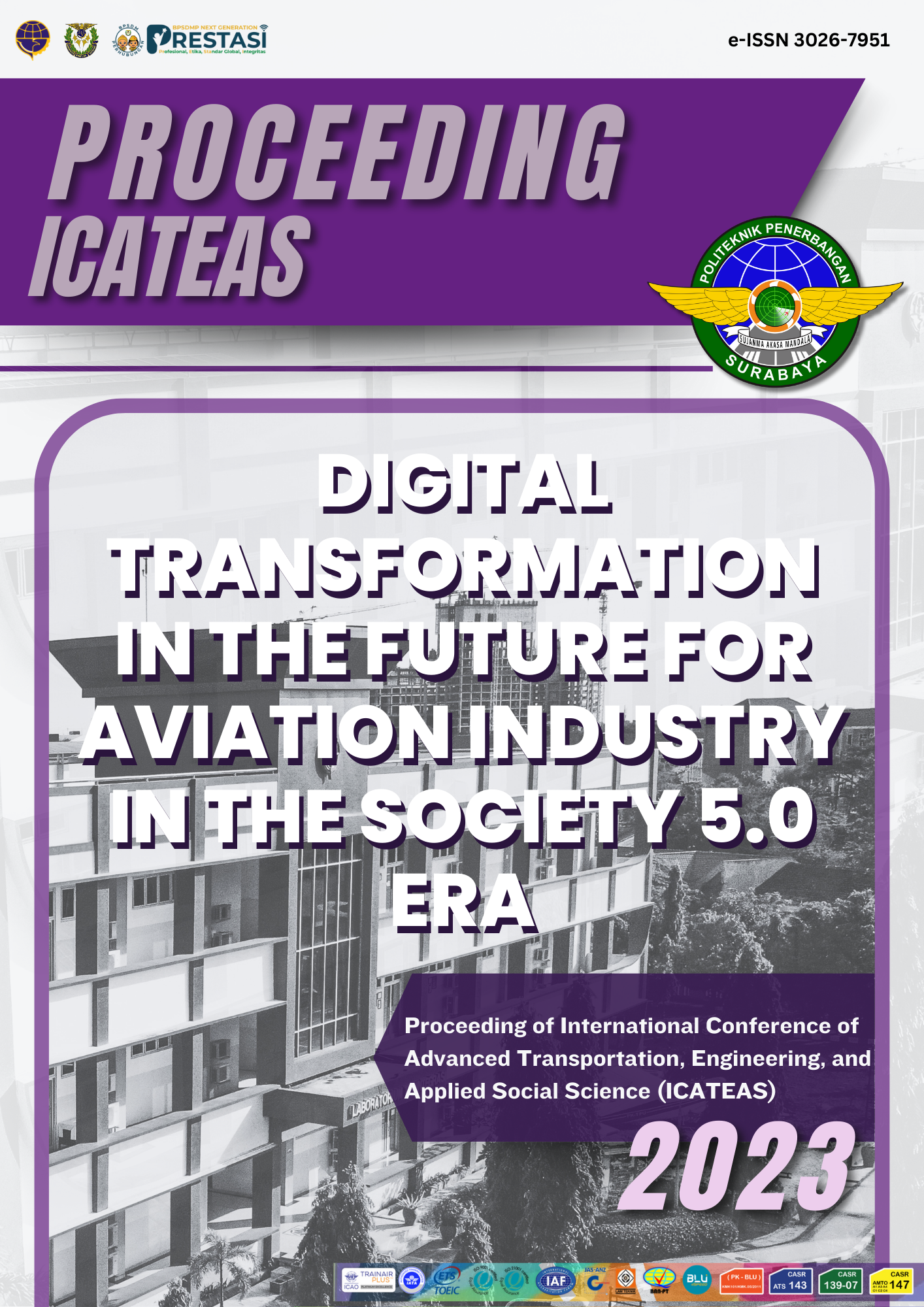 Downloads
How to Cite
Kurniawan, R., Wasito, B., & Suryono, W. (2023). ANALYSIS OF TAXIWAY PAVEMENT CONDITIONS WITH THE PAVEMENT CONDITION INDEX (PCI) METHOD AT JUANDA AIRPORT SURABAYA. Proceeding of International Conference of Advance Transportation, Engineering, and Applied Social Science, 2(1), 867–873. Retrieved from https://ejournal.poltekbangsby.ac.id/index.php/icateass/article/view/1753