THE IMPACT OF TERMINAL SERVICE OFFICER(TSO) PERFORMANCE TOWARDS PASSENGER SATISFACTION AT SAM RATULANGI INTERNATIONAL AIRPORT IN MANADO
Keywords:
Personnel Performance, Terminal Service Officer (TSO), Passengers, Satisfaction, Facilities
Abstract
Sam Ratulangi International Airport in Manado is one of the airports that began to increase flights since being affected by Covid-19. During the first semester period, January to June 2022. An increase of 37% when compared to the same period in 2021 with a total of 733,523 passengers. However, the reduction in Terminal Service Officer (TSO) personnel has not yet increased. It is feared that this could lead to a lack of supervision of facilities in the terminal area. Therefore, this research is expected to increase passenger satisfaction with facilities at Sam Ratulangi International Airport Manado. This research uses quantitative data collection by observation or direct observation, and the distribution of questionnaires. The population in this study were Lion Air JT-748 passengers totaling 100 passengers. The sample obtained was 50 of the existing population using the Probability Sampling technique. The analysis method used to test the instrument is the Simple Linear Regression test. The results of this study indicate that the effect of Terminal Service Officer (TSO) personnel performance on passenger satisfaction at Sam Ratulangi International in Manado is 98.6%, the remaining 1.4% is influenced by other variables not studied.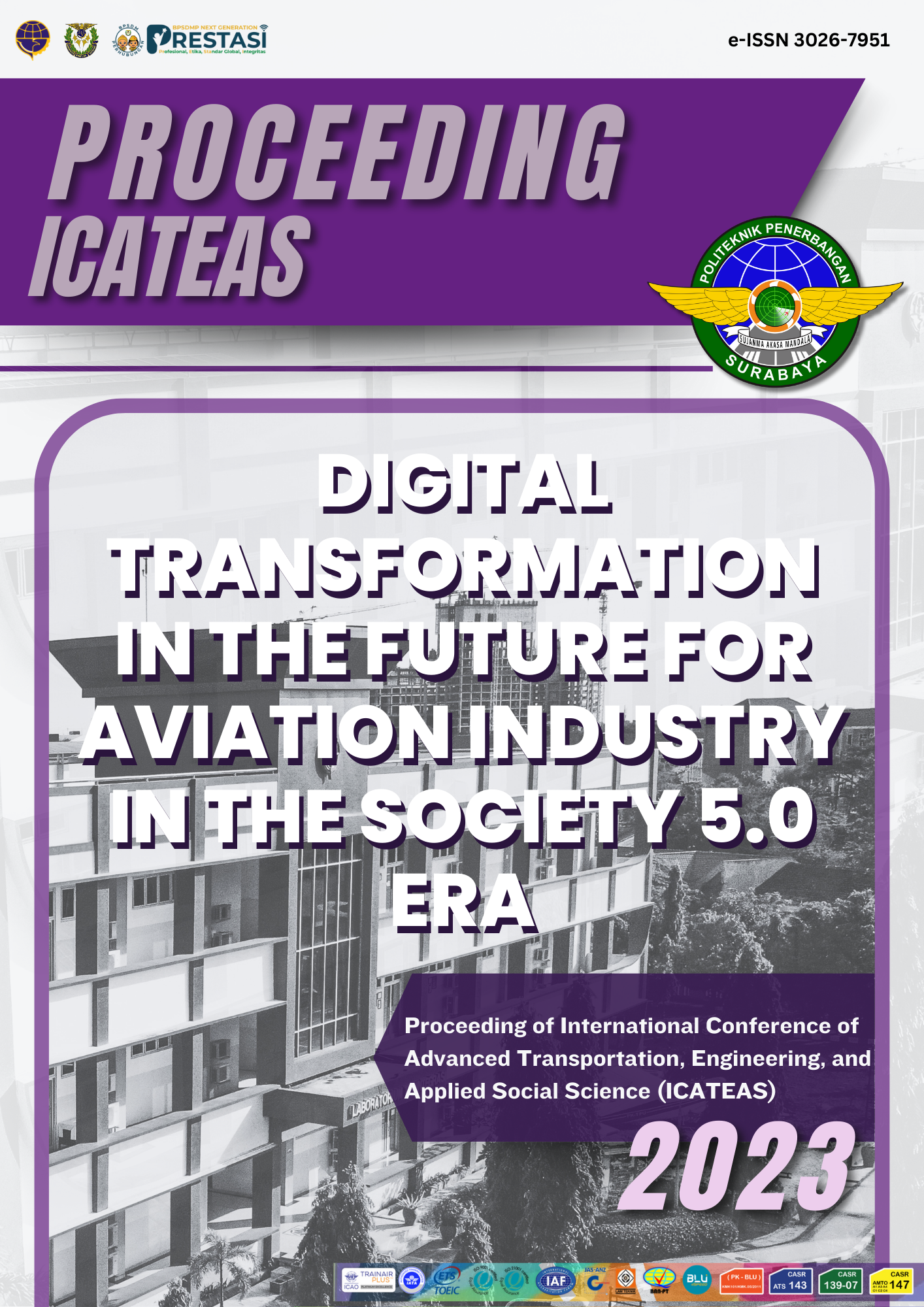 Downloads
How to Cite
Yuniarti Arief, R., Dewi Kusumayati, L., & Budiarto, A. (2023). THE IMPACT OF TERMINAL SERVICE OFFICER(TSO) PERFORMANCE TOWARDS PASSENGER SATISFACTION AT SAM RATULANGI INTERNATIONAL AIRPORT IN MANADO. Proceeding of International Conference of Advance Transportation, Engineering, and Applied Social Science, 2(1), 845–851. Retrieved from https://ejournal.poltekbangsby.ac.id/index.php/icateass/article/view/1750