THE ANALYSIS OF PERSONNEL SUPERVISION FUNCTIONS APRON MOVEMENT CONTROL (AMC) EFFORTS TO REDUCE THE RATE OF VIOLATION OF GROUND SUPPORT EQUIPMENT (GSE) VEHICLE SPEED LIMITS ON THE SERVICE ROAD AT SAM RATULANGI INTERNATIONAL AIRPORT, MANADO
Keywords:
Apron Movement Control Personnel, Ground Support Equipment, Sam Ratulangi Manado Airport, Supervision, Service Road
Abstract
This thesis examines performance issues concerning the supervision of AMC personnel on the Service Road of Sam Ratulangi International Airport Manado. The issue under discussion is the prevalence of Ground Support Equipment (GSE) exceeding the stipulated speed limits, which poses a potential hazard. Additionally, the service road at Sam Ratulangi International Airport Manado serves as a pathway for passengers embarking or disembarking from aircraft, making the situation more critical due to insufficient supervision by AMC personnel regarding orderliness on the apron. This research aims to optimize the performance of Apron Movement Control (AMC) unit personnel related to the supervision of Ground Support Equipment (GSE) order. The theoretical framework for this research is based on Manual Of Standard CASR – Part 139, Volume I, Chapter 9, Point 9.6.6, which covers The Duties of Apron Movement Control (AMC) Personnel, and SKEP 140/VI/1999, which outlines Requirements and Operational Procedures of Vehicles on Air Side, particularly Chapter IV addressing the Code of Conduct of Traffic On Air Side. This research uses a qualitative combination method and data collection techniques using observation, interviews, documentary studies, and questionnaires. The findings of this study highlight the importance of adhering to the AMC Standard Operating Procedure (SOP) in terms of comprehensive supervision. To address the identified issues, it is recommended to implement coaching sessions and conduct regular and scheduled Ramp Safety Campaigns."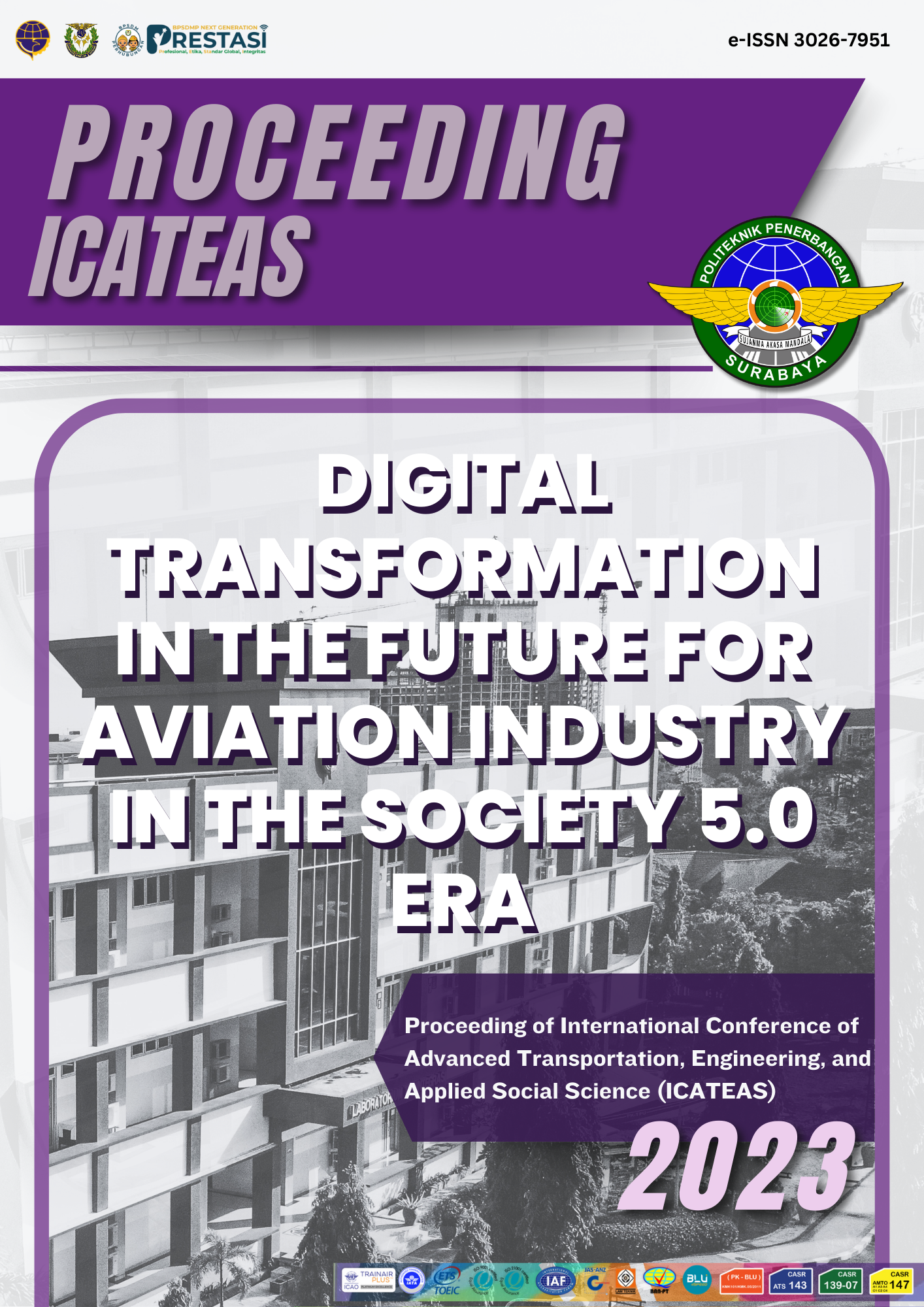 Downloads
How to Cite
Ayu Sriyanti Dewi, P., Musadek, A., & Rinaldi, R. (2023). THE ANALYSIS OF PERSONNEL SUPERVISION FUNCTIONS APRON MOVEMENT CONTROL (AMC) EFFORTS TO REDUCE THE RATE OF VIOLATION OF GROUND SUPPORT EQUIPMENT (GSE) VEHICLE SPEED LIMITS ON THE SERVICE ROAD AT SAM RATULANGI INTERNATIONAL AIRPORT, MANADO. Proceeding of International Conference of Advance Transportation, Engineering, and Applied Social Science, 2(1), 798–805. Retrieved from https://ejournal.poltekbangsby.ac.id/index.php/icateass/article/view/1743