PAVEMENT PLANNING OF ACCESS ROAD FOR DPPU PERTAMINA VEHICLES FROM THE POST TO THE APRON AT H. HASAN AROEBOESMAN ENDE AIRPORT
Keywords:
Airport, Access Road, Component Analysis, Pavement Thickness
Abstract
H. Hasan Aroeboesman Ende Airport is in Tetandara village, South Ende sub-district, Ende Regency, East Nusa Tengara Province. One of the facilities at H. Hasan Aroeboesman Ende Airport is Pertamina's DPPU. Currently, the access road for DPPU vehicles is not suitable for use and does not have pavement. This access road is 90m long and 4m wide, until now Pertamina's DPPU vehicles going to the apron still pass through the runway. The method used in the Pertamina DPPU Vehicle Access Road Planning is the component analysis method to determine the thickness of the layer to be used. While the determination of the budget plan uses the reference Unit Price Analysis of East Nusa Tenggara Province in 2023. Based on the calculation results of the component analysis method, the thickness of the road surface planned for Pertamina DPPU vehicles is 40 cm, the thickness of the surface layer is 5 cm, the top layer is 15 cm, and the bottom layer is 20cm. Based on the regulations contained in SKEP 347 of 1999, the calculation of the thickness of the pavement is selected in accordance with the regulations. then for the total Budget Cost required for the planning work of the Pertamina DPPU vehicle access road is Rp 190,000,000 (spelled out: one hundred ninety million rupiah).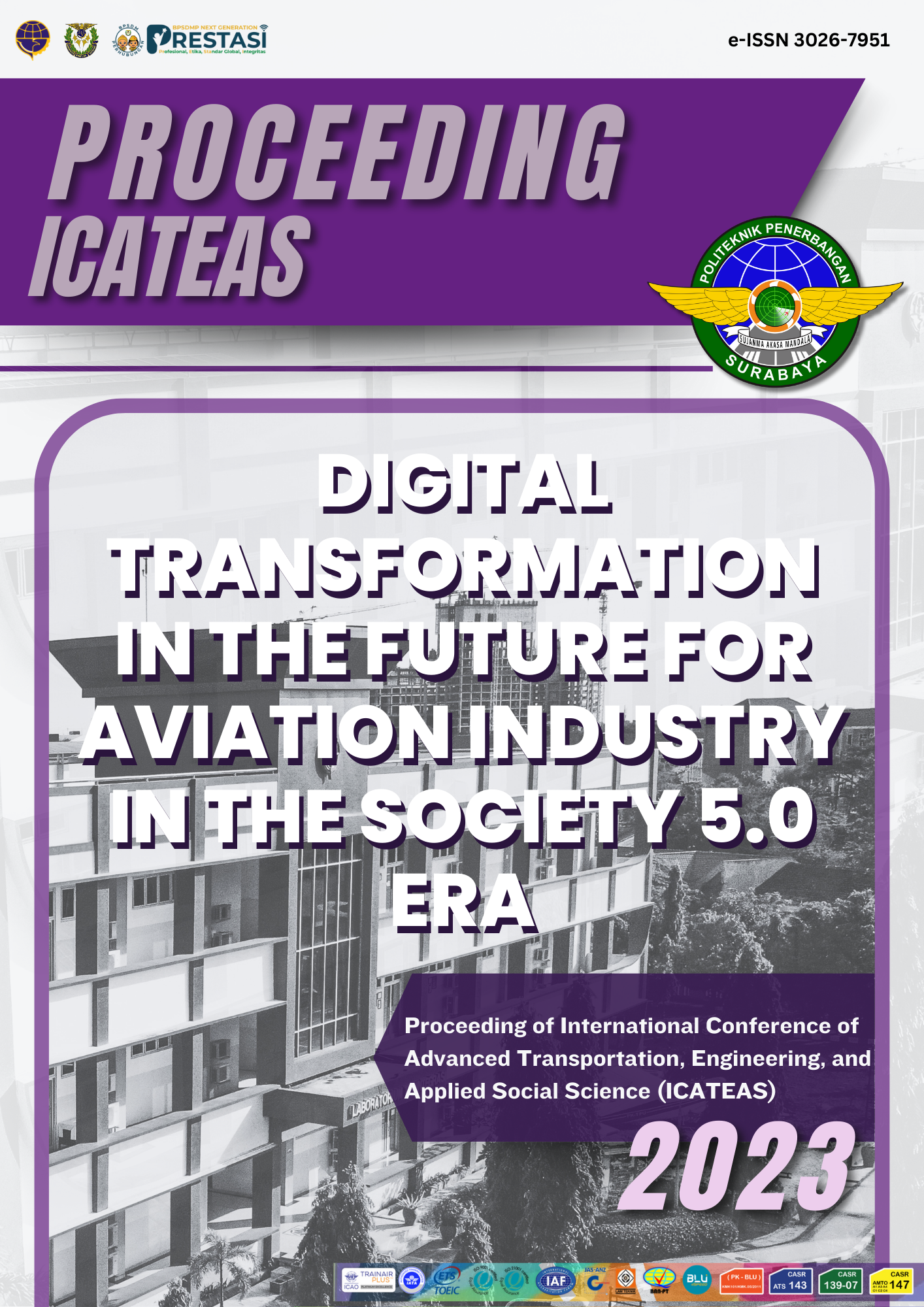 Downloads
How to Cite
Pradana, P., Winiasri, L., & Hartatik, N. (2023). PAVEMENT PLANNING OF ACCESS ROAD FOR DPPU PERTAMINA VEHICLES FROM THE POST TO THE APRON AT H. HASAN AROEBOESMAN ENDE AIRPORT. Proceeding of International Conference of Advance Transportation, Engineering, and Applied Social Science, 2(1), 784–791. Retrieved from https://ejournal.poltekbangsby.ac.id/index.php/icateass/article/view/1741