DESIGN OF A FLIGHT CONTROL SYSTEM RUDDER SIMULATOR ON AN ARDUINO UNO-BASED BOEING 737-900ER AIRCRAFT AS A SUPPORTING FACILITY FOR PRACTICAL ACTIVITIES AT THE SURABAYA AVIATION POLYTECHNIC
Keywords:
Pneumatic System, Overheating, Bleed air, Indicator Lamp, Simulators
Abstract
Pneumatic system or bleed air has the aim to provide information in performing troubleshoot techniques and maintenance procedures on engine bleed air system components. Engine bleed air system is a system that produces compressed air from engine rotation. This process can produce compressed air that enters the system needed by the aircraft, taking into account low pressure, overpressure and overheat. With overheat conditions in the pneumatic system on the current aircraft, the author designs a Pneumatic system simulator when overheating occurs on this aircraft using simple electronic objects and components that have functions and working principles resembling the original system. The incoming power supply provides 12 V power which is then flowed through a stepdown regulator to reduce the voltage to 5 V which is used to supply the LED lamp, pushbutton switch, temperature sensor, and Arduino. When the temperature sensor detects a temperature that exceeds the predetermined limit, the Arduino will provide input to the LED lamp to light up. Pneumatic system simulator tool when overheating occurs in engine bleed water does not work if there is one component not connected or incorrect installation and not as expected. In the initial stage of the experiment where this hot gun is an example of media when simulated, namely as a compressor to produce hot air. In the first experiment set at a temperature of 29C, the overheat indicator lamp did not turn on. And at a temperature of 30C, the overheat indicator lamp is also still not lit. At this temperature 31C, the overheat indicator lamp and also the fault indicator lamp are lit. That indicates that the temperature has touched the maximum limit or has exceeded the maximum limit.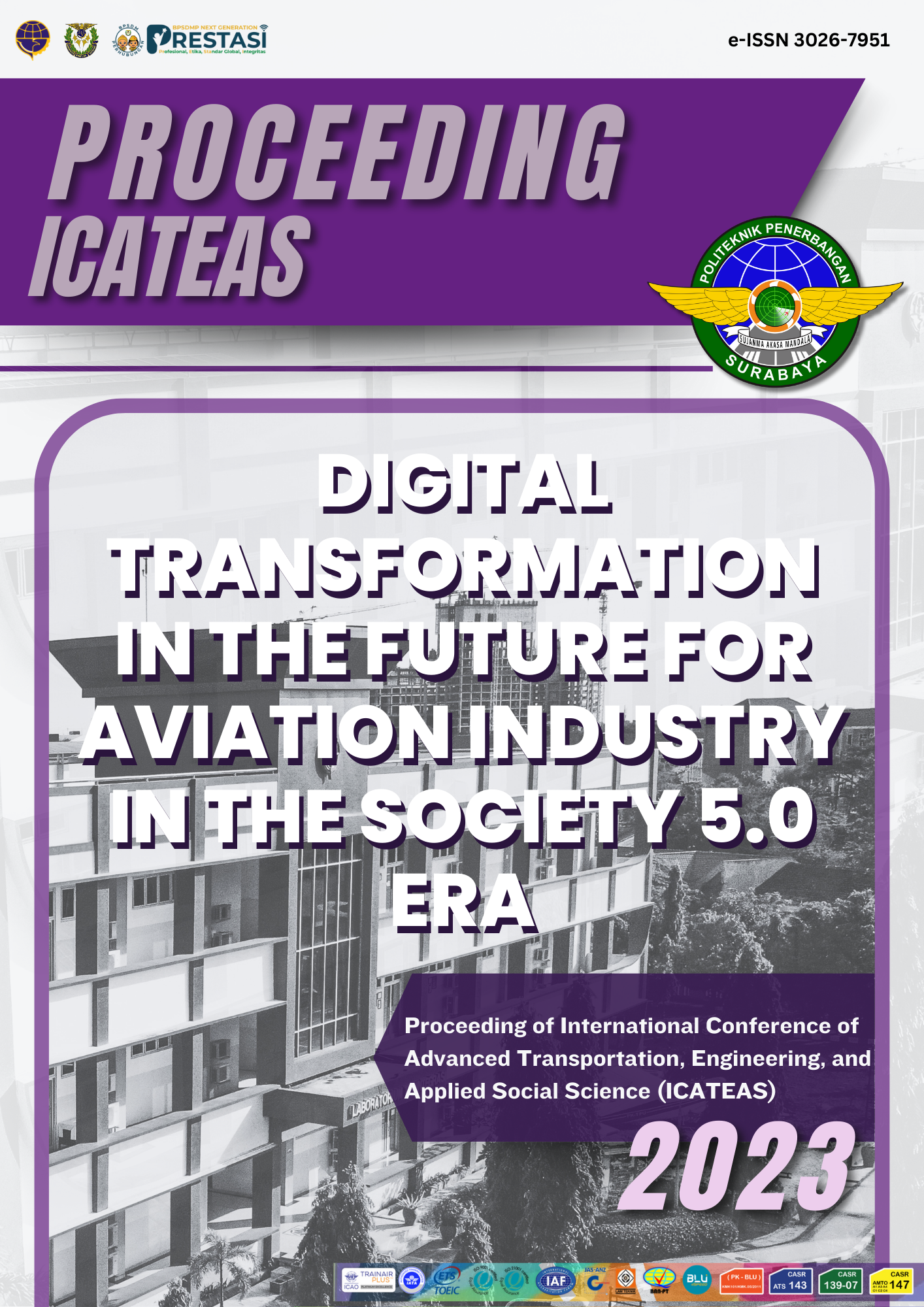 Downloads
How to Cite
Khusnul Kholifah, N., Dwi Cahyo, B., & Faizah, F. (2023). DESIGN OF A FLIGHT CONTROL SYSTEM RUDDER SIMULATOR ON AN ARDUINO UNO-BASED BOEING 737-900ER AIRCRAFT AS A SUPPORTING FACILITY FOR PRACTICAL ACTIVITIES AT THE SURABAYA AVIATION POLYTECHNIC. Proceeding of International Conference of Advance Transportation, Engineering, and Applied Social Science, 2(1), 750–754. Retrieved from https://ejournal.poltekbangsby.ac.id/index.php/icateass/article/view/1736