DESIGN OF A COMBUSTION SIMULATION TOOL IN AN ANNULAR CAN TYPE COMBUSTION CHAMBER AS A LEARNING SUPPORT AT THE SURABAYA AVIATION POLYTECHNIC
Keywords:
Combustion Chamber, Annular Can, Gas Turbo Engine, How to Design, How to Work
Abstract
In gas turbine engines there is a combustion system in the combustion chamber with an annular can typein the engine shop of the Surabaya Aviation Polytechnic. Gas Turbine Engines, especially in the combustion system inthe combustion chamber of the annular can type, are not enough if discussed only in theory, but must also be studied directly through practicum such as the implementation of making Combustion Chamber Simulator with annular can type. This research aims to make a tool by designing a design that is slightly the same as a description of the Combustion Chamber combustion system and supports teaching and learning activities at the Surabaya Aviation Polytechnic. This research uses a qualitative research method by explaining the process of designing a tool, starting with problem identification, data collection, tool design, tool making, tool testing, testing data, then conclusions can bedrawn after getting test results.The design of this tool is designed using stainless steel, because this design requires materials that are not easily corroded for long-term use. This design uses welding and drilling techniques to make the holes listed on the tooldesign. The results of the design of the can annular combustion chamber simulation wake-up tool are obtained by burning evenly with the time difference tested by several respondents obtained an average of 72.6 seconds from the results of tests conducted by several respondents in the percentage that is the working tool, it works well to produce even combustion in the noozle stove.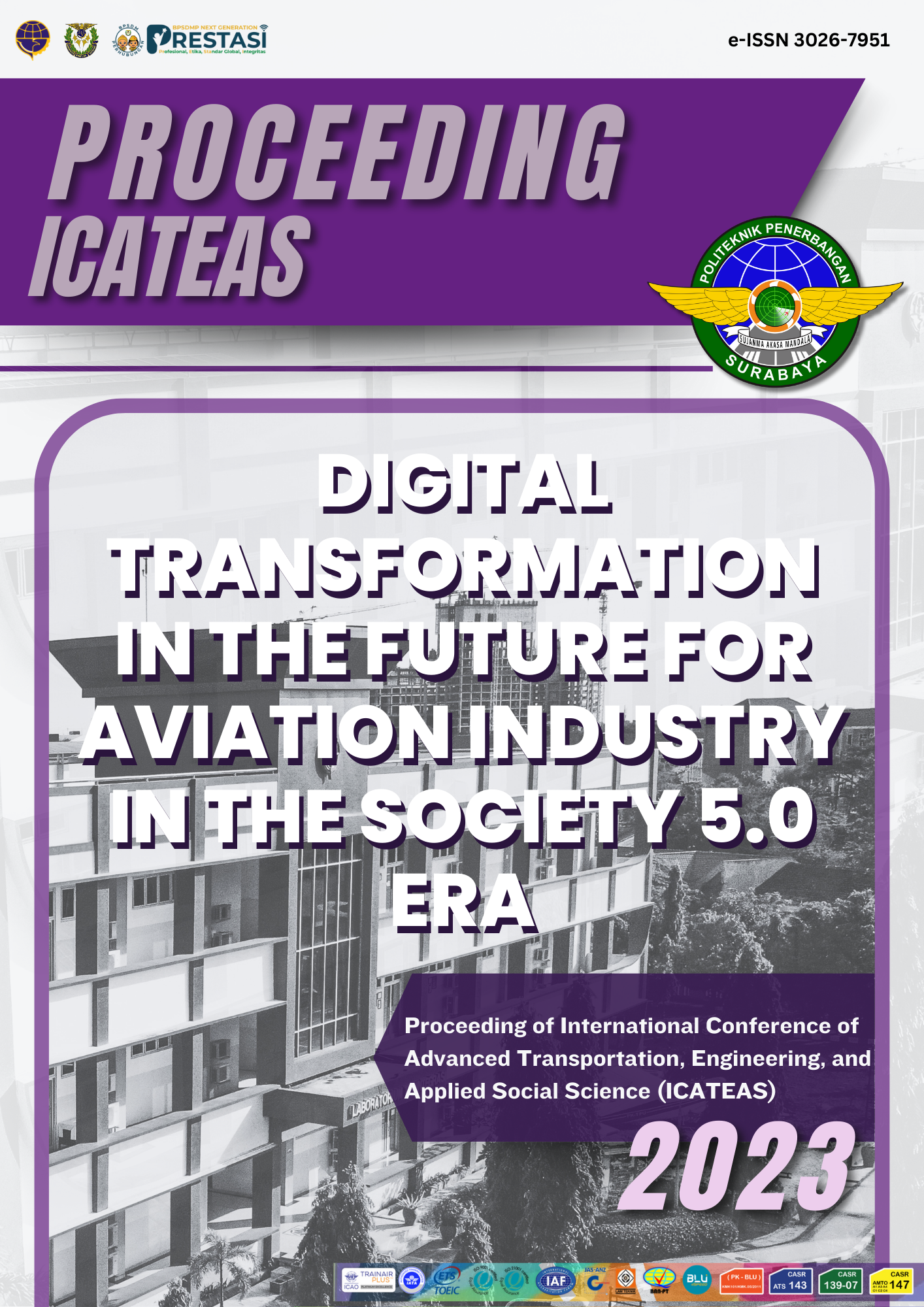 Downloads
How to Cite
Wahyu Aditya, M. (2023). DESIGN OF A COMBUSTION SIMULATION TOOL IN AN ANNULAR CAN TYPE COMBUSTION CHAMBER AS A LEARNING SUPPORT AT THE SURABAYA AVIATION POLYTECHNIC. Proceeding of International Conference of Advance Transportation, Engineering, and Applied Social Science, 2(1), 687–690. Retrieved from https://ejournal.poltekbangsby.ac.id/index.php/icateass/article/view/1727