A SOCIALIZATION METHOD FOR INCREASING DANGEROUS GOODS KNOWLEDGE OF PASSENGER
Keywords:
Dangerous goods, Understanding, Safety, Security
Abstract
Sultan Aji Muhammad Sulaiman Sepinggan International Airport Balikpapan is one of the airports managed by PT Angkasa Pura 1. At this airport there are 2 sides, namely the airside and landside, on the landside there are security facilities Security Check Point. This study aims to determine how high the understanding of passengers about dangerous goods on flight safety. This study used a quantitative descriptive method and data collection was obtained from observations and questionnaires. The number of respondents in this study involved 30 passengers and 30 aviation security officers at Sultan Aji Muhammad Sulaiman Sepinggan airport, Balikpapan. Questionnaire data retrieval was carried out via Google form with the distribution of 1 (one) google form for passengers and 1 (one) google form for officers. aviation security. Then the data is processed using the SPSS application to obtain valid and consistent results as well as obtain correlations from the X and Y variables and perform manual calculations as a comparison of the results. From the results of the distribution to respondents, it can be concluded that these results have a very strong correlation between the X variable with a value of 0.731 and the Y variable with a value of 0.757 obtained from calculations using the SPSS system, from the results of these calculations the result is that passengers' understanding of dangerous goods influences on flight safety. This quantitative descriptive research procedure refers to the Regulation of the Minister of Transportation of the Republic of Indonesia No. 32 of 2022. Concerning dangerous goods. The results of the research that has been carried out state that there are still passengers who do not have sufficient understanding about dangerous goods before taking a flight.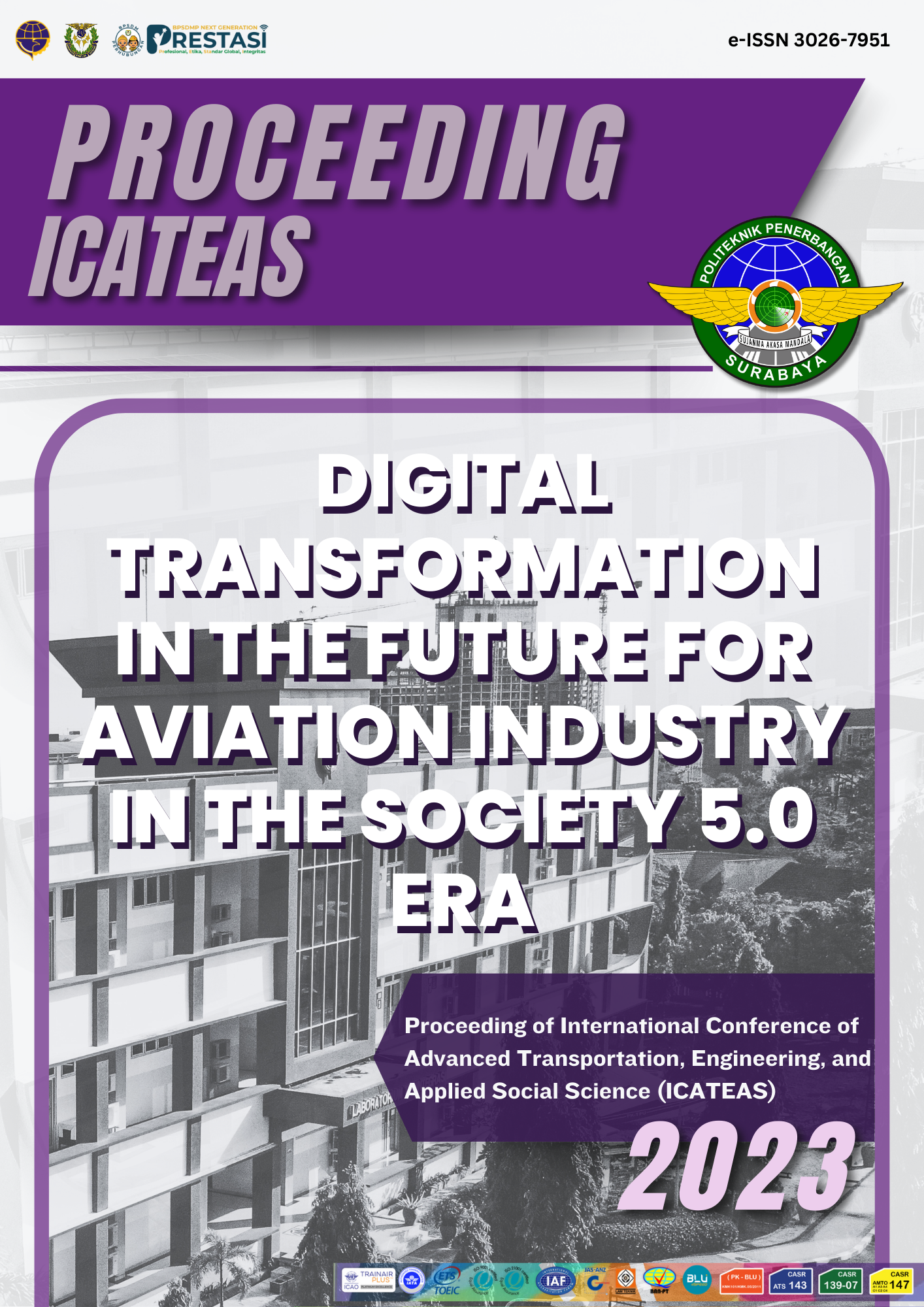 Downloads
How to Cite
Rifansyah Firstyadi, M. H., Hariyadi, S. ., & Fatmawati, F. (2023). A SOCIALIZATION METHOD FOR INCREASING DANGEROUS GOODS KNOWLEDGE OF PASSENGER. Proceeding of International Conference of Advance Transportation, Engineering, and Applied Social Science, 2(1), 548–556. Retrieved from https://ejournal.poltekbangsby.ac.id/index.php/icateass/article/view/1706