APRON FLOODLIGHT OF LIGHT INTENSITY ON THE FLIGHT SAFETY OF APRON TERMINAL 1 AT SOEKARNO-HATTA INTERNATIONAL AIRPORT
Keywords:
light intensity, apron floodlight, flight safety
Abstract
Based on the current condition, the lighting intensity provided by the existing apron floodlight is insufficient and does not meet the standards or recommended lighting requirements by ICAO for apron lighting, which should be a minimum of 20 lux. The inadequate lighting quality will undoubtedly affect the smooth operation on the apron. Therefore, to improve the quality of service in the apron area, it is essential to have apron floodlights with strong illumination that comply with the established standards. Good research begins with the core problem formulation and setting research goals to be achieved. This research is analyzed using quantitative methods. In the research steps, including determining the research design, it must be based on existing problems and research objectives to be achieved. To use quantitative research more precisely, it is recommended to do field exploration or observation first. A flexible quantitative research design can provide guidance on steps to be taken and describe what will be done in the field. Based on observations during On the Job Training (OJT) at Soekarno-Hatta International Airport, during night flights, one of the important things is to ensure that the floodlight apron, part of the airport lighting system (AFL), is active and complies with the standards set by the International Civil Aviation Organization (ICAO). After data analysis and discussion, using the Statistical Program for Social Science (SPSS), it resulted in a conclusion from the research The Effect of Apron Floodlight on Terminal 1 Flight Safety at Soekarno-Hatta International Airport is the positive and significant influence of apron floodlight on flight safety at terminal 1 of Soekarno-Hatta International Airport. The results of the regression analysis obtained, the significant value of influence on the variables of apron floodlight research, so that the existence of an LED type floodlight apron can increase the level of flight safety of terminal 1 Soekarno-Hatta International Airport.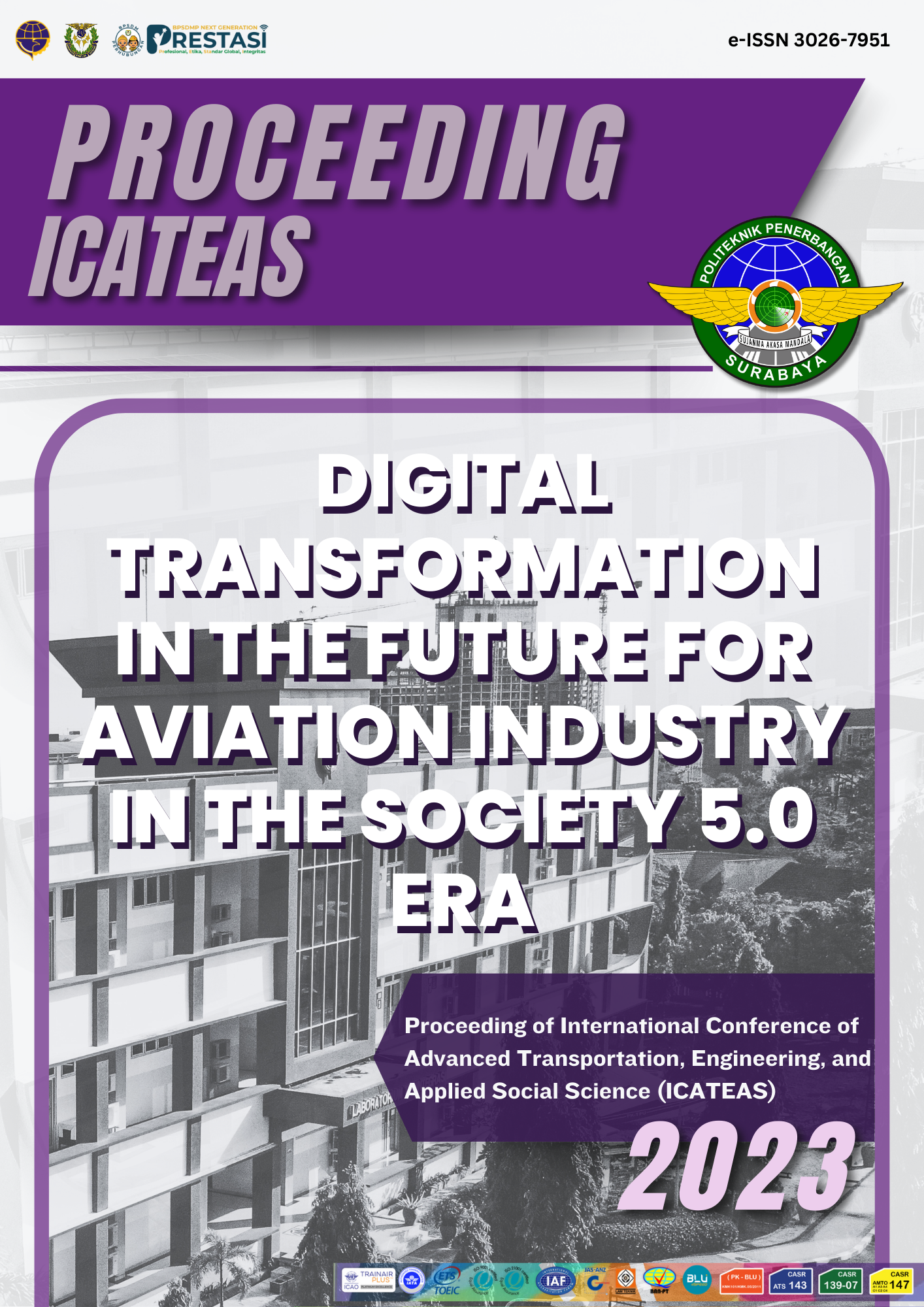 Downloads
Published
2023-11-08 — Updated on 2023-11-08
How to Cite
Mahendro, J., Saputra, W., Idyaningsih, N., & Muhammad Soleh, A. (2023). APRON FLOODLIGHT OF LIGHT INTENSITY ON THE FLIGHT SAFETY OF APRON TERMINAL 1 AT SOEKARNO-HATTA INTERNATIONAL AIRPORT. Proceeding of International Conference of Advance Transportation, Engineering, and Applied Social Science, 2(1), 487–494. Retrieved from https://ejournal.poltekbangsby.ac.id/index.php/icateass/article/view/1696