THE ANALYSIS OF SECURITY FACILITIES ON THE AIR SIDE TOWARD FLIGHT SAFETY AND SECURITY AT KALIMARAU BERAU CLASS 1 AIRPORT
Keywords:
Standardization, Security Facilities, Safety, Security
Abstract
In the face of evolving security challenges, it is important to have effective and standard-compliant security measures in place to protect airport facilities and prevent threats to aviation safety and security. There needs to be security facilities on the air side such as perimeter fences as a barrier to the airport area to protect airport activities on the air side such as take-off and landing of aircraft. At the perimeter fence of Kalimarau Airport, there is a problem, namely the incompatibility of the perimeter fence with Ministerial Regulation 167 of 2015, an update to Ministerial Regulation 33 of 2015. This study used a correlational method with a quantitative approach whose data was obtained from observation data and questionnaire distribution. Respondents from this questionnaire are Aviation Security (AVSEC) officers and Movement Control (AMC) Apron personnel, then the results of the respondents' answers are calculated using the SPSS application. The results of the calculation found that standardization of security facilities on the air side (variable X) is correlated with aviation safety and security (variable Y). These results can be seen from the correlation test which shows a result of 0.01 which is smaller than 0.05 which means that X and Y variables have a correlation. The level of standardization of the perimeter fence of Kalimarau Class I Airport according to the regulations on perimeter fence standardization is not yet standardized and it can be seen in the observation data table that there are still many parts of the perimeter fence that are not standardized.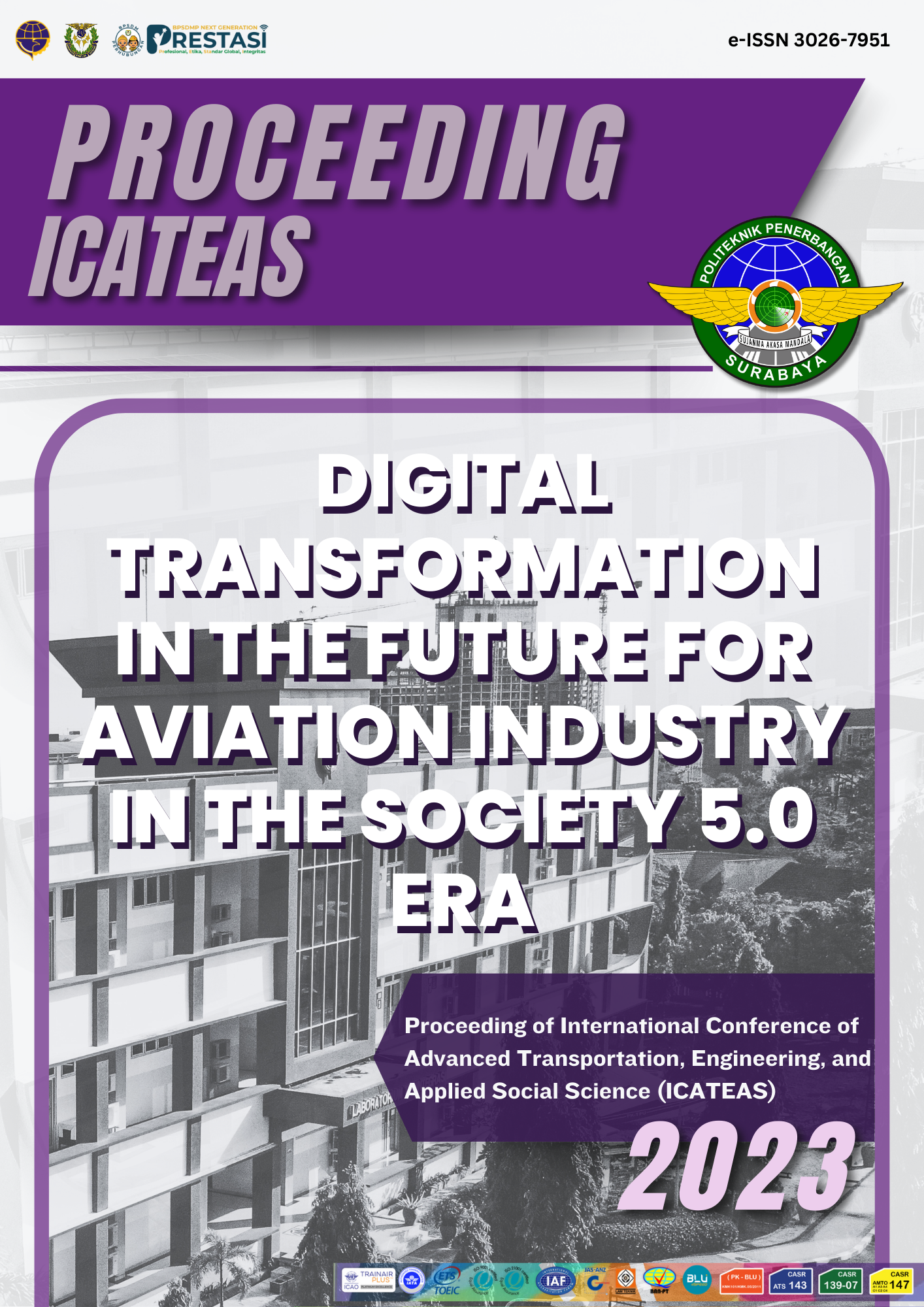 Downloads
How to Cite
Irawan, G., Suryono, W., & Agus Furyanto, F. (2023). THE ANALYSIS OF SECURITY FACILITIES ON THE AIR SIDE TOWARD FLIGHT SAFETY AND SECURITY AT KALIMARAU BERAU CLASS 1 AIRPORT. Proceeding of International Conference of Advance Transportation, Engineering, and Applied Social Science, 2(1), 366–373. https://doi.org/10.46491/icateas.v2i1.1677