SYNCHRONIZATION OF PARKING STAND, GATE, AND FLIGHT INFORMATION DISPLAY SYSTEM (FIDS) ALLOCATION AT JUANDA INTERNATIONAL AIRPORT SURABAYA
Keywords:
Boarding Gate, Flight Information Display System (FIDS), Parking Stand
Abstract
Since it was stopped due to the Covid 19 pandemic, the growth of air transportation services has now increased again. One of them is Surabaya Juanda International Airport, which is an airport under the auspices of PT Angkasa Pura 1. Currently, Surabaya Juanda International Airport shows an increase in the number of passengers and flights since it had decreased due to the Covid-19 phenomenon, which was 63,806 flights and 8,690,051 arrivals and departures in 2022. Based on the phenomenon in the field, it was found that there was a 15-35% discrepancy in gate information listed on the Boarding Pass and the Flight Information Display System (FIDS) screen every day. This does not always pose a danger but it has the risk of clash boarding or passengers entering the wrong plane until passengers miss it. Servicerelated problems are basic but must be considered for the comfort and quality of service for passengers at Surabaya Juanda International Airport. This study uses qualitative methods and the data used is the author's direct observation in the field, namely in the form of boarding gate differences between what has been planned and what will be used in a flight. The conclusion of this study is the occurrence of non-compliance by airlines with the allocation of gates, the allocation of parking stands by AMC units that are not appropriate, and the use of supporting facilities that are not optimal resulting in mismatches in information about this boarding gate. By conducting research on this problem in order to reduce or even eliminate the desynchronization of information about the boarding gate that each flight will use. It is expected that each related party can evaluate the implementation of boarding activities and allocation of aircraft parking stands and then take appropriate mitigation steps and have a positional impact on the provision of service quality at Surabaya Juanda International Airport.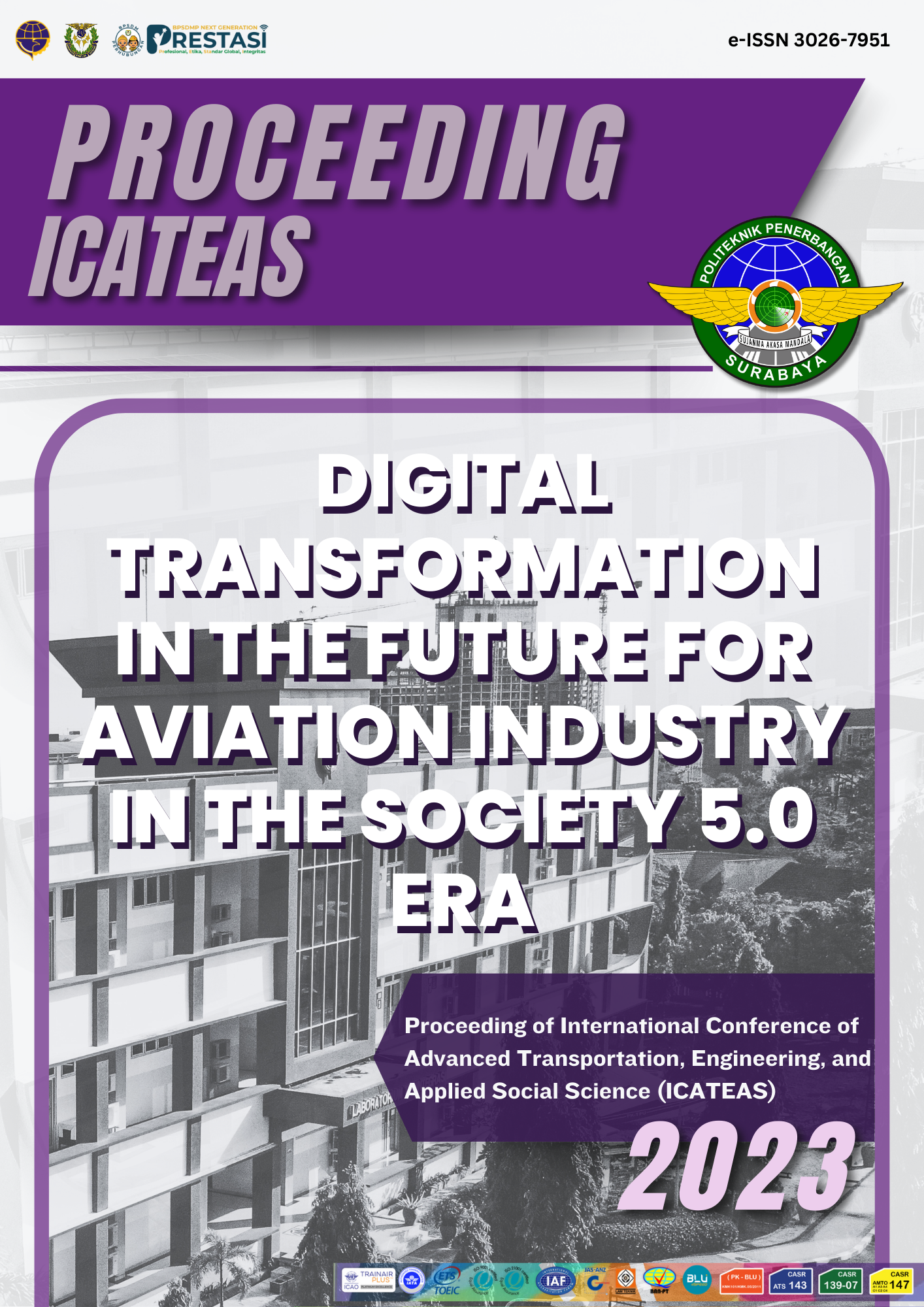 Downloads
Published
2023-11-08 — Updated on 2023-11-08
How to Cite
Putri, D., Syahrul Munir, M., Syukri Pesilette, M., & Candra Yuniar, D. (2023). SYNCHRONIZATION OF PARKING STAND, GATE, AND FLIGHT INFORMATION DISPLAY SYSTEM (FIDS) ALLOCATION AT JUANDA INTERNATIONAL AIRPORT SURABAYA. Proceeding of International Conference of Advance Transportation, Engineering, and Applied Social Science, 2(1), 300–307. Retrieved from https://ejournal.poltekbangsby.ac.id/index.php/icateass/article/view/1666